Crush your STEPtember challenge goals with awesome new app features and tools, available at the tap of a button.
LOG YOUR ACTIVITY
Connect your preferred wearable device, track your activity in real-time or add your activity manually!
See here for instructions.
LIVE LEADERBOARDS
Follow your organization's challenge progress and enjoy a little friendly competition between teams.
CONNECT WITH YOUR TEAM
Chat with your teammates and colleagues, track your individual and team progress, and close the rings together.
STEP UP YOUR SELFIES
Spread the word with your personalized Facebook and Instagram stories using the STEPtember AR filters.
Just a few taps on the home screen to track and record your activity.
Synch your steps via Apple Health or Google Fit - see here for instructions.
Live leaderboards show your fundraising and step progress next to other STEPpers.
Check the menu for your fundraising page, resources, Facebook group and more.
Visit the FAQs

for help setting up and getting the most from your app.
3 EASY WAYS TO GET STEPPING
On the home screen, tap the big blue "Start Activity" button, and start moving! When you're done tap "Stop" to save your step count.
Tap the "+" in the blue "Daily Steps" box and select "Steps". Select to add steps via your connected fitness tracker or manually, enter the details then "Log Steps".
Tap the "+" in the blue "Daily Steps" box and select "Activity". Enter the details of your activity and let the app convert the steps for you then "Log Steps".
SHARE YOUR STEPTEMBER SUCCESS
Connect with your STEPtember teammates, personalize your fundraising message, and celebrate your achievements.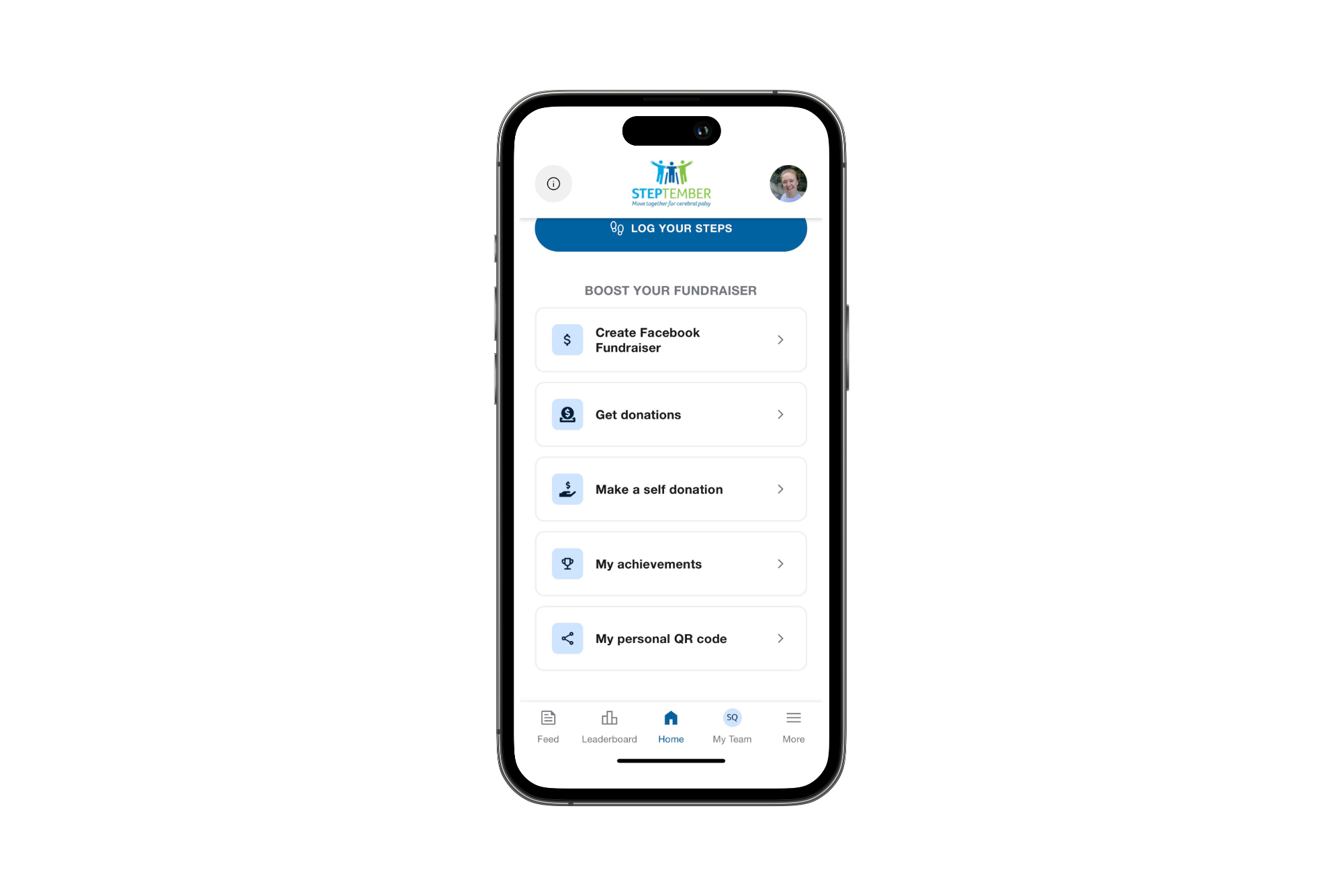 SHARE YOUR STORY
Share your fundraising page, or any of the available resources, by selecting "Share My Challenge" on the home screen
FLASH THOSE PEARLY WHITES
On the home screen, select "STEPtember AR" to add a custom filter to your Facebook and Instagram stories.
JOIN THE CONVERSATION
When you log your activity, share it to your Feed. Follow your colleagues' progress on the team or organization Feed.